Home Clone
Supporting the Women of HR
HR Girlfriends makes it possible for the women of Human Resources to connect for knowledge sharing, resource swapping, professional development and personal growth opportunities. Live Anywhere. Work Anywhere. We got you covered!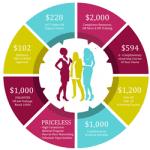 Join the Community
It's time you join forces with a community of like-minded peers ready to tackle the issues unique to the women of HR. 
LEARN MORE
Get Certified
The first-ever HR certification designed for professionals who are just beginning their HR career journey. 
LEARN MORE
Unemployment Charging Method, 50 States
The HR Pros' Guide to cyberSAFEty at work and home


Paid Time Off (PTO): Pros & Cons
HR Girlfriends
Real Talk Blog
Career Monday: A Surefire Formula for Boosting Your Confidence at Work

October 3, 2022

Radiating confidence makes it easier to move ahead at work, and each success helps to build your self-esteem. If you doubt your abilities or feel insecure speaking up in meetings, you can still turn things around by training yourself to become more poised. Start strengthening your faith in yourself and your potential. Try this formula […]

HR Girlfriends
Affirmation: 7 Signs That You're Not Assertive Enough

September 27, 2022

Your parents may have raised you to be accommodating and to put the needs of others first. However, there's a limit to how accommodating you can be without harming yourself. Eventually, you start to feel like others are taking advantage of you. At the same time, you worry that others will be upset if you […]

HR Girlfriends
Career Monday: 12 Constructive Things To Do  While You're Unemployed

September 26, 2022

If you're currently searching for a job, you already know that a big part of your routine is waiting around. Maybe you've let everyone from your old boss to your hairdresser know that you're interested in a new opportunity. Maybe you've been attending job fairs, and you've even landed a few promising interviews. Now, you […]

HR Girlfriends
Psssst…. We love when you talk about us!
"Hello there!!!! Just wanted to let you know that they just offered me a permanent position to be effective August 1st as their Senior HR Generalist! Thank you so much for recommending me for this opportunity. I really enjoy the work and the work environment."
"....and to think that I had never heard of HR Girlfriends. I appreciate the unique opportunities available to connect within the LinkedIn group. I've engaged with so many HR professionals in various industries and geographic locations. Believe it or not, I was able to meet one of my HR Girlfriends in person at a recent conference and we've become fast friends. Keep giving us new ways to grow"
"Sana, you may not remember me but I had the pleasure of meeting you at a networking event in New York over a year ago. I wanted to say thank you for being open to answering my questions and providing guidance on my HR journey. I'm looking forward to the next NYC event."
"HR Girlfriends is such a cool concept. It's like I didn't know I was missing out until I was able to experience the women in the group. What I like most are the creative events you put on."
"I PASSED my aPHR exam today!!! Excited and ready to finish my MBA. Thank You for providing the training course and materials"
"HR Boyfriend ALERT 🙂 Yes, I'm a man but I love what you're doing for the profession. I just referred a co-worker to your website."
HR Girlfriends
Awesome Partners & Clients