Home
Supporting the Women of HR
HR Girlfriends makes it possible for the women of Human Resources to connect for knowledge sharing, resource swapping, professional development and personal growth opportunities. Live Anywhere. Work Anywhere. We got you covered!
HR Girlfriends New Feature!
THE FIRST GTP-3 POWERED RESUME & COVER LETTER BUILDER
Resume and Cover Letter Automation.
You spent weeks trying to write a resume but still can't find the right words. You have no idea how your career goals are related to the job you want. The AI Writer understands what kind of skills and experience employers need, so it can help you complete your resume in minutes.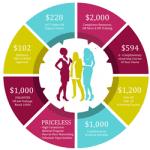 Join the Community
It's time you join forces with a community of like-minded peers ready to tackle the issues unique to the women of HR. 
LEARN MORE
Get Certified
The first-ever HR certification designed for professionals who are just beginning their HR career journey. 
LEARN MORE
Level-Up Your HR Career with the CyberSAFE™ Credential
HR Girlfriends
Real Talk Blog
Career Monday: A Fool-Proof Formula for Dealing with Coworkers Who Talk Too Much

July 4, 2022

Seven out the top 10 productivity killers involve too much socializing, according to a workplace survey by CareerBuilder. Maybe it's the receptionist who describes her new diet each time you pass through the lobby, the manager who dominates weekly staff meetings, or the sales rep who stops by your cubicle for an hour at a […]

HR Girlfriends
Q&A: Can we tell employees not to talk about their pay with each other?

June 30, 2022

Generally not. The National Labor Relations Act (NLRA) grants all non-supervisory employees (not just those in unions) the right to organize and engage in "concerted activity" for the purpose of mutual aid or protection. Concerted means "in concert," meaning more than one employee is involved. Activities for mutual aid and protection could include discussions about […]

HR Girlfriends
Affirmation: Release Your Assertive Side and Get What You Want More Often

June 28, 2022

Assertiveness is an important part of communication. When you're assertive, you're standing up for yourself while respecting others. It's also an excellent way to enhance your self-esteem and self-respect. The inability to be assertive suggests that part of you doesn't believe you're deserving of your request. The ability to be assertive also provides you with […]

HR Girlfriends
Psssst…. We love when you talk about us!
"Hello there!!!! Just wanted to let you know that they just offered me a permanent position to be effective August 1st as their Senior HR Generalist! Thank you so much for recommending me for this opportunity. I really enjoy the work and the work environment."
"....and to think that I had never heard of HR Girlfriends. I appreciate the unique opportunities available to connect within the LinkedIn group. I've engaged with so many HR professionals in various industries and geographic locations. Believe it or not, I was able to meet one of my HR Girlfriends in person at a recent conference and we've become fast friends. Keep giving us new ways to grow"
"Sana, you may not remember me but I had the pleasure of meeting you at a networking event in New York over a year ago. I wanted to say thank you for being open to answering my questions and providing guidance on my HR journey. I'm looking forward to the next NYC event."
"HR Girlfriends is such a cool concept. It's like I didn't know I was missing out until I was able to experience the women in the group. What I like most are the creative events you put on."
"I PASSED my aPHR exam today!!! Excited and ready to finish my MBA. Thank You for providing the training course and materials"
"HR Boyfriend ALERT 🙂 Yes, I'm a man but I love what you're doing for the profession. I just referred a co-worker to your website."
HR Girlfriends
Awesome Partners & Clients